Now the cold weather is drawing near, the central heating turned on and windows firmly shut, use home fragrances to freshen and infuse individual rooms with gorgeous scents to lift or calm the senses.
Here are a few of the latest room fragrances available this month:
Fragrance Sprays
Fragrance sprays are the quickest and instant way to freshen up any room, especially handy for those last minute gatherings and events.
Lalique's 'Voyage du Parfumeur'
Lalique introduces a new room spray collection of three scents. Each of the three fragrances highlights a raw material chosen from stunning locations around the world.
Neroli, transports us to vibrant Casablanca, Morocco – home of the bitter orange tree.
A sunny fragrance infused with calming properties.
Top notes: Mandarin, bitter orange and Ylang-ylang
Heart: Neroli, orange blossom and sambac jasmine
Base notes: Patchouli, amber and vanilla
Vanilla, conjures up exciting Acapulco, Mexico – home of the vanilla orchid.
A delicate warm aroma.
Tope notes: Vanilla
Heart: Sandalwood
Base notes: Musk and amber wood
Poplar, takies us to the winter sports resort of Aspen, USA – home to the aspen tree.
A room spray to conjure the warmth and cosiness of a winter's evening inside beside a crackling fire.
Top notes: Cardamom, Eucalyptus and Juniper
Heart: Cashmere wood and cypress
Base notes: cedarwood and Fir balsam
The glass bottles are adorned with the brand's iconic swallow in flight motif.
Price 59 Euro from Lalique.
Fragrance Sticks/Reed Diffusers
Unlike the scented candle, room diffusers need no monitoring. They release their scent all day long enabling you to forget all about them for at least a few months.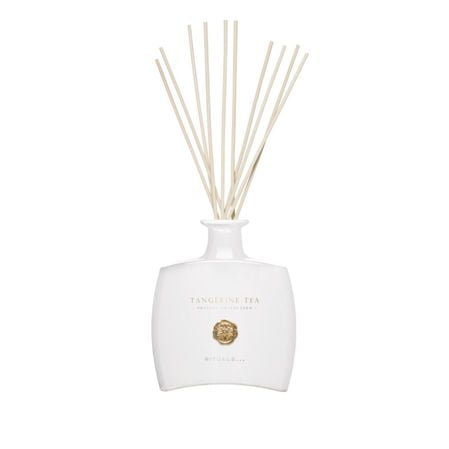 Rituals Tangerine Tea Fragrance Sticks – based on Bergamot Tea
Bergamot Oil has a fresh fruity citrus smell with a soothing and relaxing effect.
The sticks will last around 2.5 months. With an additional set supplied, these should last long enough to get you through the winter months. Use in the living room, kitchen or bathroom.
Fragrance sticks have an elegant Zen look about them which is enhanced with the Tangerine Tea's white bottle with gold touches.
Tip: Do not turn the sticks too many times as this may reduce the time the fragrance lasts.
Price £42.50 from Rituals.
Scented Candles
The scented candle is the most romantic of the room fragrance mediums, setting an intimate mood with its soft focus candlelight and mesmerising flames.
Winter Limited Edition: The Ritual of Anahata
The Ritual of Anahata contains the sweet yet woody aroma of rosewood which is know for its calming properties and the essence of pine which helps reduce stress levels and is a mood elevator.
These ingredients are said to attract prosperity, helping you 'stay the course' during difficult times and allowing you to slow down the pace of your busy life for a short while at least.
Presented in a festive gold holder.
The large candle gives up to 55 hours of relaxing atmosphere.
Price £35 for large candle from Rituals.
Tell us which home fragrance suits your character?
Scented candle for the romantics, fragrance spray for the impulsive or fragrance diffuser for the no fuss minimalists.