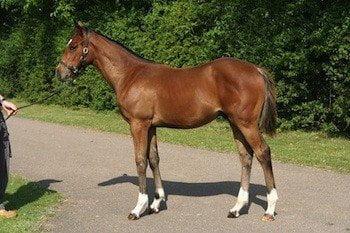 Frankel has already been judged the best racehorse of the 21st Century. On 20th October he could become the greatest racehorse of all-time in the QIPCO Champion Stakes at Ascot.
So what sets him apart from the best of the rest?
Great racehorses have three things in common: a large engine, a highly efficient stride and an amazing will to win. In Frankel's case, he's also under the care of a legendary trainer, Sir Henry Cecil, and has been taught to race by leading rider Tom Queally.
Essential Facts
Age: Four (born 11th February 2008).
Height: 163.8cm (16h 1/2inch) from ground to shoulder.
Weight: At birth 123lb. Now approximately half a ton.
Colour: Bay, four white feet, star on forehead.
Shoe size: 7.5 in front, 7 behind.
Fuel consumption: 23lbs of Canadian oats per day, plus corn, alfalfa chaff, bran, English hay and the occasional carrot. Altogether about 35,000 Kcalories per day.
Greenhouse gas: 60 grams of carbon dioxide per km.
Physiology
As a new-born foal (pictured), Frankel was already winning acclaim for his conformation, achieving a grading of 7++ from the stud manager at Juddmonte Farms. It is extremely rare for any foal at Juddmonte to earn a mark of eight.
Frankel clearly inherits his father's ability. His sire is the champion stallion and two-time Derby winner, Galileo, who's sired over 70 Group winners.
Frankel also takes after his mother, Kind, a six times winner up to Listed Class who has also produced two other high-class winners; Frankel's full-brother Noble Mission and his half-brother and galloping companion, Bullet Train.
Frankel has a highly efficient cardiovascular system and he very likely has an above-average heart. Legendary Australian racehorse, Phar Lap, had an unusually large heart, weighing 6.35 kilograms (an average racehorse heart weighs 3.5–4 kgs). In a race, a thoroughbred's heart will beat up to 240 times per minute, pumping at least 85 pints of blood around the body.
Frankel will also benefit from a larger than normal spleen that acts as a reservoir of red blood cells to transport oxygen to the muscles. This oxygen is supplied via the horse's lungs which exhale and inhale 140 times a minute during a race, delivering 150 litres of air per second – about 10,000 litres in a race.
But beautiful breeding and an excellent engine are only part of the story: the energy needs to be turned into efficient locomotion. Frankel clearly benefits from very effective bio-mechanics, transferring energy into forward propulsion with the minimum of effort. Just like other supreme champions Secretariat and Deep Impact, he has a huge stride of 22 feet at full speed, compared to an average of 20–21 feet, supported by abnormally large feet.
Frankel wins so readily by maintaining between 130 and 140 strides per minute long after his rivals begin to tire, clocking a top speed of 43mph at Goodwood in the summer. (The average winning speed in 5 furlong sprint races is 37.5 mph.)
Will to Win
Beautiful breeding, a powerful engine, and bio-mechanics to die for – but the perfect specimen won't win top races if he lacks a competitive streak. With Frankel, there's a will to win in spades. If anything, in his early races, he was rather too headstrong for his own good but his regular work rider, Shane Fetherstonhaugh, and top jockey, Tom Queally, have taught him to conserve his energy and dominate at the finish.
According to ten-time Champion Trainer, Sir Michael Stoute, "Henry and his team have handled Frankel impeccably. When he accelerates he destroys the opposition in about 100 yards. He is a magnificent racing machine."
Professor Alan Wilson, Professor of Locomotor Biomechanics at the Royal Veterinary College, says, "Once a decade in human athletics an outstanding athlete appears who reshapes the benchmark of what is feasible. For instance, Usain Bolt and Bob Beamon. Frankel is such an individual. Everything has come together for him and it is hard to identify a single feature that explains why he is so special."
Mark Evans, of Channel 4's 'Inside Nature's Giants', comments, "I've been lucky enough to travel the world to study the anatomy of some of the most extraordinary animals on earth – from Polar Bears in the Arctic to Hippos in Zambia. But, as a scientist, the one animal I would love to get my hands on is Frankel. With their huge hearts, cavernous lungs, self-doping spleens, built-in biceps catapults and light, long pogo-stick legs, all champion race horses are extraordinary biological machines. But, as an equine athlete, Frankel is clearly in a class of his own. We all want to know why? So, let's not wait until he's gone to find out."
Dr Jeremy Naylor, a racehorse trainer who is a former vet and Director of Equine Sports Medicine at University of Bristol, comments, "Frankel is the ultimate equine athlete, a physiological marvel of speed and stamina with the rarest of qualities in an enduring appetite for the cut and thrust of competition. We may not witness another of his prowess this century."
Leading Bloodstock Agent, Johnny McKeever, believes, "If Frankel had ever passed through the sales ring he would have surely been a sales topper. He possesses that rare almost elusive quality of exceptional sire, pedigree and faultless physique combined with, what the Americans call, 'the look of eagles'. He's an aristocrat of a horse, a total alpha.
At Ascot on QIPCO British Champions Day, Frankel will be aiming to extend his unbeaten record to 14 wins and a place in racing history as one of the all-time greats. Paraphrasing from the outstanding, undefeated 18th century British racehorse, Eclipse, we might one day say "Frankel first, the rest nowhere."
Enjoyed this article? You might also be interested in: