Dress Codes – for Royal Ascot 2018: As the most famous of the racing festivals, this is the place to show off your fabulous fashion flair. But take heed; there are dress codes to adhere in all of the enclosures.
Royal Enclosure
Dress code in the Royal Enclosure is formal daywear.
The length of dresses and skirts should fall just above the knee or longer.
The straps on dresses, jumpsuits and tops have to be one inch wide or greater. Strapless, off the shoulder, one shoulder style, halter neck and spaghetti straps are not permitted (even if worn under a jacket). Midriffs must be covered.
Trouser suits are permitted but the trousers must be full length and of matching colour, pattern and material to the jacket. Jumpsuits are also permitted but must be full length and its straps must adhere to the dress code for tops.
Hats or a substantial fascinator (with a base more than 10cm in diameter) must be worn at all times. Fascinators are not permitted if they have a base less than 10cm.
Feel fresh and summery in Nico Didonna's green mix floral cotton Marika dress whilst its cerulean blue poncho style silk sleeves will add drama as they gently billow in the breeze. Price £320.
Team with Beverley Edmondson's jade and royal blue hat with peacock sword. Price £270.
Queen Anne Enclosure
Dress and skirt lengths can be above the knee but shorts or playsuits are not permitted. Strapless, off the shoulder, one shoulder style and sheer straps are not permitted. Again, midriffs must be covered.
Trouser suits and jumpsuits must be full length and worn with a top that adheres to the above guidelines.
Fascinators are permitted but all headwear must be worn at all times.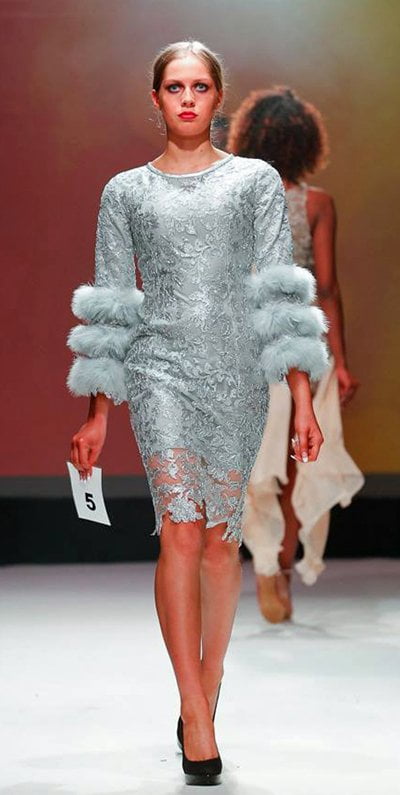 Show a flirtatious side to the classics in Michaela Frankova's silver lace dress with tactile Marabou feathers. The intricate lace overlay is knee length with a much shorter underslip. This not only allows a glimpse of leg but also allows the detailing of the lace to be more noticeable. Price £320. Photogrpahy credit: Colin Choi.
Add a sprinkling of colour with Hats by Agnieszka's silver grey percher fascinator, trimmed with three cobalt blue feathers and adorned with a delicate fuchsia veil. The three curled feathers are decorated with pale blue Swarovski crystals to twinkle in the sunshine. Price £160 via Etsy.
Village Enclosure
Although the dress code for the Village Enclosure is the same as the Queen Anne Enclosure (see above), it isn't as formal. This is an enclosure with more of a party atmosphere providing an eclectic mix of music throughout the day until 9pm.
As this enclosure is largely an outdoor area, smaller hats and fascinators plus wedges are recommended in place of larger hats and stilettos.
Maggie Mowbray's soft black leather fascinator is perfect for the outdoors. Named Blume after the Dutch botanist Karl Ludwig von Blume, the orchid shaped fascinator was inspired by the Victorian orchid collectors. Price £180 via Etsy.
The Cristina Black sandal from Zaccys comes in a high or medium wedge. Medium wedge £180, High wedge £200.
Windsor Enclosure
With no set dress code, it is still requested to dress in a manner that befits a formal occasion. It is recommended that ladies wear smart attire with a hat or fascinator.
Karen Gold's cocktail day dress mixes elegance with fun. In bright purple and cream, the dress features a sweetheart neckline and halter neck tie-up whilst the skirt is trimmed with a flirty fringe hem. Price £199.
Complement the dress with Esther barrette by Margaret Woodliff Wright Millinery. An array of cream netting with pale pinks and plum chiffon creating frothy frayed edged petals with silver beaded centres. Price £125.